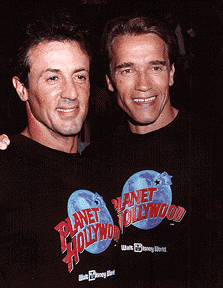 SIMPLY TYPE THE NAME OF ANY FAMOUS PERSON INTO THE SEARCH BOX BELOW TO DISPLAY THE LINK THEY HAVE WITH ARNOLD SCHWARZENEGGER.!!!!!!!!!!
alt="[The Terminator]"> Arnold Schwarzenegger is The Terminator. Name any actor or actress and I can construct the shortest list of links that terminates with Arnold Schwarzenegger.
---
Enter the name of an actor or actress:
e.g. Elvis Presley or Robert De Niro or Sarah Jessica Parker
---
All actor and movie data used by the Oracle comes from the Internet Movie Database.
Please also visit the Oracle of Bacon at Virginia page.