| | |
| --- | --- |
| | |


TERMINATOR 3
Enter subhead content here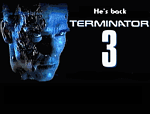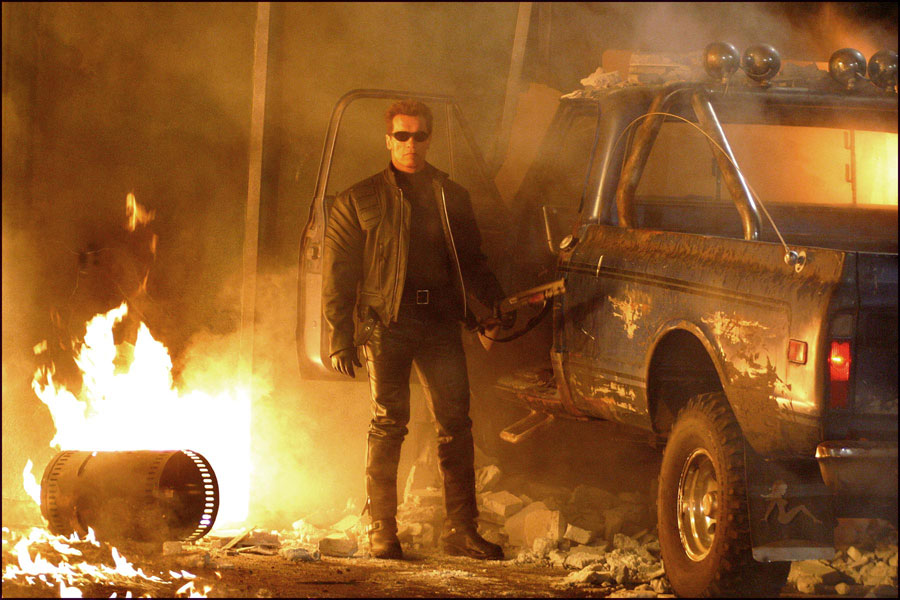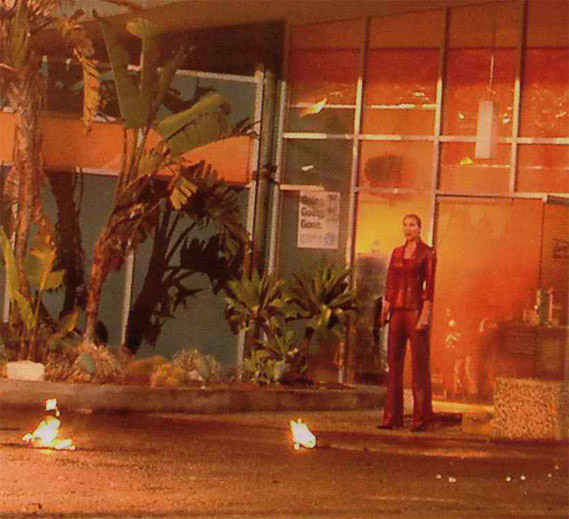 Title: Terminator 3: Rise of the Machines
Release Dates: 04 July 2003 - Official website: www.terminator3.com
Cast: Arnold Schwarzenegger (The Terminator $30m), Kristanna Loken (the Terminatrix). Nick Stahl (John Connor), Claire Danes (Kate Miller).
Director: Jonathan Mostow (Breakdown, U-571 $5m).
Writing Credits: Tedi Sarafian (Tank Girl) - (19/06/01) John Brancato and Michael Ferris (The Game, The Net) have signed on to rewrite the original script.
Based upon: This movie is of course a sequel to 1984's Terminator, following also 1991's T2:J. Day; and to be followed by Terminator 4.
Genre: Action, Science Fiction, Thriller.
Filming: Previously scheduled to start production in the spring of 2002
Produced by: C-2 Pictures; Intermedia Films
Distributor U.S. Warner Bros. Pictures
Story: The "T3" storyline takes place 10 years beyond "T2," with a twentysomething John Conner and his cyborg pal battling a female TX model, a Terminatrix whose powers and morphing abilities go beyond anything seen before.
NEWS - TERMINATOR 3: RISE OF THE MACHINES
---
T3 & T4 VIDEOGAMES
03.07.02 -

The Hollywood Reporter says that French game publisher Infogrames has bolstered its Hollywood video game lineup with game rights to the next two Terminator films. Through a deal with C-2 Pictures and Intermedia, Infogrames will develop and distribute console and PC video games based the Arnold Schwarzenegger-starrer Terminator 3: Rise of the Machines. The "T3" games are expected to ship in conjunction with the film's summer 2003 release. Also, subject to certain conditions, Infogrames has secured the exclusive first option for interactive rights for Terminator 4. Infogrames, which has a Santa Monica studio, has the rights to the first two films as well through previous licensing deals.

.
OFFICIAL T-3 SITE
16.05.02 - Warner Bros. has launched Terminator3.com, a teaser site for "T3: Rise of the Machines". There's not much yet, other than the news that shooting has begun and that a trailer will be available this summer, but click around and you'll see some interesting stuff.
CLAIRE DANES REPLACES BUSH IN T-3
06.05.02 - According to Variety, Claire Danes has replaced Sophia Bush in a pivotal role in "Terminator 3: Rise of the Machines." The trade says that Danes started work Sunday, taking over as the romantic interest of John Conner (Nick Stahl), who is now in his 20s and once again partnered with his muscular cyborg pal (Arnold Schwarzenegger) while trying to elude a more advanced TX model robot (Kristanna Loken) bent on terminating him to change the future. Apparantly Mostow felt that newcomer Bush seemed a bit young for the part. Danes, whose deal was quickly, is 23. "This was a difficult decision because Sophia is a talented and charismatic performer," said Mostow. "However, we feel, after reviewing the dailies, that her appearance and manner play younger than what we wanted for the role. We look forward to working with Sophia on future projects."
KYLE IS BACK IN T-3
04.05.02 - Michael Biehn is in Capetown working on a film and in a talk with CCFM apparently indicated he's got a cameo in T3. When asked "Didn't Your Character Die?" He supposedly replied "you go away, you think about it...and you'll realize there's a place for Kyle Reese in this movie. As minute as it will be". (source: Dark Horizons)
SOPHIA BUSH IN T-3
05.04.02 -

Actress Sophia Bush, appearing in "National Lampoon's Van Wilder," which opens today via Artisan Entertainment has nabbed one of the two female lead roles in the Arnold Schwarzenegger starrer "T3: Rise of the Machines" for C-2 Pictures/Intermedia and director Jonathan Mostow. The 19-year-old Bush, crowned the 2000 Tournament of Roses queen, will star opposite Nick Stahl ("In the Bedroom") as Kate Miller, a young, athletic professional in the medical field.
NICK STAHL WILL BE JOHN CONNOR
25.03.02 - Variety has confirmed earlier reports that Nick Stahl ("In the Bedroom," "Bully") will star as John Connor in "T3: Rise of the Machines," replacing Edward Furlong who starred in the role for "T2: Judgment Day". The trade says that the third installment of the "Terminator" franchise, picks up the story a decade after the sequel, when Connor reteams with his cyborg protector to battle the TX.
CASTING CALL FOR T-3
22.03.02 -

'

Sam Central' pointed us over to the Backstage.com website which reports there is a casting call out for participants for "T3: Rise of the Machines," the third installment in the Terminator series... On Location Casting is accepting submissions for T3, Terminator 3. Dir. Jonathan Mostow, prod. Mario Kassar, Andy Vajna. Shoot starts Apr. 14. Meals provided. There is pay. Breakdown--Photo doubles: for Terminator, 6'0"-6'2", 210-220 lbs., Female lead, 5'10"-6'0, very slim, blonde; Extras: police, swat team, firemen, paramedics, military/soldiers, white trash women, Mexican laborers, general extras with vehicles. Send pix & resume by Apr. 15 to On Location Casting, 1223 Wilshire Blvd., PMB 409, Santa Monica, CA 90403. SAG CONTRACT.
CLAIRE FORLANI IN TERMINATOR 3?
19.03.02 -

There's the Terminator and the TX, the female baddie. Now there's word on who just may play the role of the female who gets along a bit better with Arnold and the soon-to-be-announced John Connor (possibly Shane West).

'Harper' wrote in with this interesting bit from Europe. It appears Claire Forlani ("The Rock," "Mystery Men," "Boys and Girls") may be the frontrunner..."Claire Forlani, the actress, was on Europe's MTV Top 20, and talked about her next movie. She said it might be with Arnie and she's playing a med student called Kate. She said its a futuristic movie and its BIG! before giving a gleaming smile. No denying what this is! T3" (Source: Cooming Soon). Click here for more info about Claire Forlani.
SHANE WEST THE NEW JOHN CONNOR?
17.03.02 - According to Anderson Jones at E! Online, actor Shane West (Dracula 2000, Ocean's Eleven) may score the John Connor role.

Edward Furlong will not be making "Terminator 3: Rise of the Machines".

To check out pictures of Shane, and his full filmography, Click here!
WINSTON CALLED FOR "T3" DUTY
08.03.02 - C-2 Pictures and Intermedia left the most important announcement for last when they revealed Thursday that Stan Winston will reprise his role as animatronic and makeup effects supervisor on "T3: Rise of the Machines." "I'm incredibly excited to have the opportunity to collaborate with a legend like Stan as well as his amazing team," director Jonathan Mostow said. "It's one of the tremendous perks of working on this franchise." Perky is the operative word. "T3's" new female terminator, T-X, will be played by relatively unknown TV actress Kristanna Loken. Arnold Schwarzenegger has publicly remarked that "T3's" Terminatrix will have even more advanced powers - including control over machines and the ability to disappear - than the T-800 robot in "The Terminator" and the liquid metal T-1000 for "Terminator 2: Judgment Day." Winston earned makeup and visual effects Oscars for "T2" as well as a BAFTA Award for best achievement
in visual effects. He received an Oscar nomination this year for his animatronic work in "A.I. Artificial Intelligence."
KRISTANNA LOKEN WILL BE THE TERMINATRIX
21.02.02 - Newcomer Kristanna Loken will be the terminatrix who goes up against Arnold Schwarzenegger in "Terminator 3: Rise of the Machines." Loken, a 22-year-old actress who starred in such TV series as "D.C." and "Philly" and the film "Panic," has landed the much coveted role of the TX, a cyborg even more sophisticated than Robert Patrick's liquid-metal T-1000 in 1991's "Terminator 2: Judgment Day." She is pitted against Schwarzenegger's T-800 cyborg character in the big-budget film to be directed by Jonathan Mostow this spring in Los Angeles. "T3" picks up the story a decade after the sequel, when a twentysomething John Connor reteams with his cyborg protector to battle the TX. Edward Furlong, who played John Connor in "Judgment Day," will not reprise his role. Click here for more info about Kristanna Loken.
SCHWARZENEGGER PULL T3 FROM CANADA
17.02.02 - Arnold Schwarzenegger's political ambitions may have terminated plans to shoot the big-budget sequel in Canada, reports the Calgary Sun. B.C. film commissioner Lindsay Allen confirmed yesterday that the "Terminator 3" production had pulled out of Vancouver, where it was supposed to film in April. "The location manager has told us it's staying in Los Angeles," Allen said. The rumored reason for the sudden and costly move is that Schwarzenegger fears shooting a film in Canada -- a so-called "runaway production" -- would hurt his chances at becoming governor of California. Allen was given no official reason why the project pulled out of B.C. But he estimates that filming a movie in Canada is 25 to 30% cheaper than shooting in L.A. To keep the "T3" budget from spiralling north of $200 million US, Schwarzenegger is reportedly forfeiting at least part of his $30-million US salary. (source Coming Soon)
ARNOLD IN AOL LIVE CHAT


03.02.02 -

Arnold Schwarzenegger participated in an AOL Live chat for his upcoming film, "Collateral Damage". The action star also went into a bit more about the villian in "Terminator 3" and more. "We start filming on April 15. We will be shooting that partially here in Los Angeles and partially in Vancouver. We will be finished probably end of September. So there will be a lot of visual effects and special effects shot afterwards in post-production. The only thing is that there is a female Terminator also involved in this one. She has extraordinary powers, including like having an effect on machines. Since I'm a machine, you never know when I turn into a bad Terminator that is willing to take out and destroy anything, or sometimes saving the world. That's part of the suspense.
YES, I SAY "I'LL BE BACK"


02.02.02 -

Arnie says that rumors that he will run for office in California will not delay "True Lies 2." "Do you honestly think I could run for office while I'm doing 'Terminator 3' and then 'True Lies II.' Be honest. I can't do all of it! I'm only human." Well, not in ''T3." I asked Arnold how he gets into Terminator mode. "I'm not saying it's easy. Nothing is easy, but I think I have plenty of time. You read the script and meet with the director and special effects department. You talk about it enough that slowly you become the character again. You go in and study and all that stuff. I didn't have a problem before. I won't have a problem now." Will he say THE LINE? "Yes, I say 'Hasta la vista baby' and 'I'll be back.' There are also some new lines that are going to be great. I don' want to say them now. But fans will be surprised." One wonders if his two sons play Terminator in front of the real thing. "They don't imitate me -- at least not to my face!" Schwarzenegger says, laughing. Meanwhile, his new flick "Collateral Damage" opens next weekend.
ARNOLD TALKS T-3


28.01.02 -

On top of the news yesterday, in which more was revealed about "T3", the Latino Review attended an interview with Arnold Schwarzenegger about his upcoming "Collateral Damage". He talked a bit more about "Terminator 3". Schwarzenegger mentioned that Linda Hamilton will be appearing in the third installment but "as flash backs...Let's just assume that she died already and he (John Connor) is on his own rather than his mother whining way (Laughing) They felt like you know John Connor is 22-23 years old his mother died and his is alone and lets move on." He went on to say that they haven't made any decisions on who will play John Conner and that they will "start looking at pictures real soon."
SCHWARZY BOTH GOOD & BAD IN T-3!
26.01.02 - Arnold Schwarzenegger revealed an interesting bit about the plot of "Terminator 3" on Access Hollywood tonight. Besides there already being a female Terminator, he said that his Terminator will be glitched. It will switch sides throughout the film, sometimes controlled by the machines and sometimes controlled by the humans.
JOHN CONNOR'S ROLE
19.01.02 - According to a scooper, one of his buddies works at Sony and has some inside knowledge on T3. The scooper says that the producers are batting around names like Chris Klein (Rollerball), Scott Speedman (Dark Blue) and Shane West (Dracula 2000) as candidates for the recast role of John Connor. "They want a 'name' to help sell the movie.". (Coming Attraction)
T-3 LOCATIONS
19.01.02 - The plan is to begin shooting the $170 million dollar sequel in April in Los Angeles and film for eight weeks. Then in the summer, the T3 production will shift locales and fly to Vancouver, Canada to film for 14 weeks. Why the switch in cities? Another one of our spies may have figured that part out: according to them, one possibility for the Canadian location is to film exterior scenes in a mountainous region outside of Vancouver's urban sprawl. But for what scenes? (13thStreet.com)
ILM CREATING TERMINATOR 3 FX


14.01.02 -

Oscar-winner for visuals in "Terminator 2: Judgement Day," San Franciso-based Industrial Light & Magic (ILM) will create the special effects for "Terminator 3: The Rise of the Machines," Variety reports. The studio is expected to create more than 300 shots for the new installment, scheduled to start principal photography in April. "Terminator 3" joins several other high-profile projects for which ILM is creating visuals. Its already busy slate includes "Star Wars: Episode II - Attack of the Clones," "Harry Potter and the Chamber of Secrets," "Minority Report," "Dreamcatcher," "Men in Black 2" and "The Hulk.
JOHN AND THE OTHERS
08.01.02 - T3 Casting (source "Entertainment Weekly")
John Connor: Replaced Edward Furlong made his movie debut in 1991's ''Terminator 2,'' playing Sarah Connor's son John, who's destined to lead humanity in future battles against machines that take over the world. But Furlong, who has reportedly struggled with substance abuse, will not appear in ''Terminator 3,'' despite earlier reports that he had signed on to the project. (his publicist didn't respond to requests for comment on his absence). A ''T3'' casting call distributed to agents (obtained by fan site Dark Horizons) says that producers are looking for an actor between the ages of 20 and 24 to play John Connor, who is supposed to have aged a decade since ''T2.'' John ''has been struggling with an uncertain future, not trusting that the nightmares that haunt him are over for good, '' says the casting information, which describes the role as ''extremely complex... requiring tremendous emotional range and intensity.'' Hayden Christensen, call your agent now.
Kate, Brewster, and Scott: Added The casting call lists three major new characters (Warner Bros. and ''T3'''s producers declined comment on the document, which is presumably subject to change). Kate, the movie's heroine, is a ''young professional with a medical background'' who ''can give both John Connor and the Terminator a run for their money.'' Brewster is a high-ranking military officer with a science background; the ''Terminator'' series' looming nuclear apocalypse is supposed to occur after the U.S. military's computer system develops a mind of its own, so we'll probably see Brewster dealing with that little problem. The third new guy is Scott, ''a successful young professional who has everything going for him.'' Until the Terminator blows his head off.
The Terminatrix: Watch out! Long-running rumors of a female Terminator are true: She will be ''sexy, beautiful, composed and lethal,'' according to the movie's casting call. And ''T3'''s producers say they're looking for a performer of ''any ethnicity or nationality,'' as long as she's in fighting shape and between the ages of 20 and 30 -- a category that could encompass anyone from Lucy Liu or Jessica Alba to ''Mission Impossible 2'''s Thandie Newton. The character will have powers that dwarf even those of ''Terminator 2: Judgement Day'''s morphing T-1000. ''She can disappear, she can mold into someone else, and she is sometimes just an energy,'' Schwarzenegger earlier told the New York Post.
Most other details of ''Terminator 3'' are as secret as anything gets in Hollywood. (To prevent leaks, each copy of the script has its owner's name marked on every page, according to one source familiar with the production.) It is known, however, that the movie will shoot in Vancouver and Los Angeles beginning in April. Pre-production has already started, including discussions of casting and special effects. George Lucas' firm, Industrial Light & Magic, which did Oscar-winning CGI work for ''T2,'' is in talks to return for the third movie, according to sources close to the project (an ILM spokesperson declined comment). And hey, did we mention that Arnold will be back?
SONY ANTES $70 MILLION FOR "T-3" FOREIGN RIGHTS
05.01.02 -
HOLLYWOOD (Variety) - Sony Corp is developing yet another consumer electronics device: the Terminator. The company's movie arm is understood to have forked over $70 million for nearly all of the international distribution rights to "Terminator 3: The Rise of the Machines,'' starring Arnold Schwarzenegger. The film, whose $170 million budget makes it easily the most expensive film ever greenlit for production, will begin shooting in April under director Jonathan Mostow (''U-571''). Schwarzenegger will receive a $30 million payday. It is scheduled for North American release via Warner Bros. over the July 4 weekend in 2003, and Sony said it would definitely release the film in its territories at the same time in an effort to defray marketing costs. Sony will control all foreign territories except for Japan and Korea, which were sold by the producers years ago, and some Eastern European countries, including Croatia, Hungary and Romania. The movie was financed by Intermedia Films, which handled the sale of the rights.
NO "T3" FOR FURLONG
17.12.01 -
According to Marilyn Beck and Stacy Jenel Smith, Edward Furlong will not be making "Terminator 3: Rise of the Machines" after all. The 24-year-old actor, who played John Connor in the blockbuster "T2," was reportedly all set to reprise his role in the Arnold Schwarzenegger feature that's supposed to go into production in the spring. However, casting for Furlong's replacement apparently begins next week. The columnists say that the decision was made due to the trouble the young actor has been in lately, from a stint at the Promises rehab center last year to a possible overdose after a night of partying and getting busted for
driving under the influence as well.
WARNER BROS. LANDS RIGHTS TO TERMINATOR 3
11.12.01 -
LOS ANGELES (Reuters) - Warner Bros.
Pictures has clinched U.S. distribution rights to "Terminator 3,'' with Arnold Schwarzenegger returning to his best-known role, capping a bidding war among some of Hollywood's biggest studios, producers of the film said on Tuesday. Financial terms of the deal were not disclosed, but the production and financing team behind the project reportedly had set its asking price at $50 million plus half the gross receipts generated by the film. "T3'' is planned for summer 2003 release, giving Warner Bros. a huge "tentpole'' film to drive its business during one of the busiest moviegoing seasons of the year. The deal comes at a time when Warner Bros., a unit of AOL Time Warner Inc., is dominating the U.S. box office with its all-star heist film "Ocean's Eleven'' and another key franchise property, the record-smashing fantasy "Harry Potter and the Sorcerer's Stone.'' They were the two highest-grossing films over the weekend. A Warner Bros. spokeswoman said the rights acquired by the studio included all forms of domestic distribution, including television, video and DVD release.
The film was sold to Warner by the production company C-2 Pictures, whose principals, Mario Kassar and Andrew Vajna, produced "T2,'' and its financing partner, Intermedia Films. Two other Intermedia-backed films opened at No. 1 earlier this year -- "The Wedding Planner'' and ``K-PAX.''
ARNARNOLD RECEIVING $30M "T3" PAYDAY
05.12.01 - 1 - According to Variety, Arnold Schwarzenegger will have a guaranteed payday of $30 million for "Terminator 3". The project is Intermedia-financed nd production begins in April. And for succeeding James Cameron as director, Jonathan Mostow will be paid upward of $5 million. The salary isn't an issue for studios bidding for domestic rights, as they aren't privy to the budgetary breakdown. All they have seen is the script, and an asking price of $50 million against 50% of gross receipts in exchange for domestic theatrical, TV, VHS and DVD rights. Bidders were told the film could cost $180 million, but that it is hoped that it would be closer to $165 million, adds the trade. It's believed that Paramount, Disney, Universal and possibly DreamWorks were players, but it was unclear whether any had yet reached Intermedia's asking price. The only studio clearly out of the bidding is Fox, which has an acrimonious history with Kassar and Vajna in trying to get "T3" for its franchise director Cameron.
STUDIOS IN HOT PURSUIT FOR TERMINATOR 3
02.12.01 - Variety reports that nearly all of the major studios are scrambling for U.S. distribution and video rights to "Terminator 3," which is expected to start shooting in April. Final contract details for Arnold Schwarzenegger to star and Jonathan Mostow to direct were being hammered out over the weekend. Since the first two "Terminator" pictures had a combined worldwide gross surpassing $560 million, there's understandably avid studio interest. But industry sources maintain "Terminator 3" will have a production budget well above $170 million, making it easily the most expensive movie ever greenlit. (Surpassing "Pearl Harbor's" $140 budget). All the courting to studios has been conducted in secret, says the trade. No copies of the "T3" script, by John Brancato and Michael Ferris, were circulated. Studio execs wanting a read had to do so by visiting Intermedia Films' own suites, or by perusing it in their own offices with someone from Intermedia loitering outside.
"T3" SCRIPT FINALLY READY
21.11.01 - The third installment of "Terminator 3" has a script ready to be shot, Arnold Schwarzenegger ready to reprise his cyborg role and Jonathan Mostow ready to direct him, reports Variety. The film's producers and the financiers at Intermedia spent Monday ironing out details for a spring or summer 2002 start. The pricetag for the feature could reach a hefty $160 million, adds the trade. It's almost a certainty the cost will surpass the $135 million which made "Pearl Harbor" the most expensive greenlight to date. Intermedia has the resources to fully finance the film itself, but the expectation is it will partner to share the risk. Universal and Sony are said to be among three wing for the film.
WHY NO HAMILTON IN T3 ?
22.10.01 - Empire Online says that Linda Hamilton spoke a bit further about why she won't be turning up in the third "Terminator" installment. "I read the script and it didn't take my character in any new direction." Hamilton told The Independent. "The film is really about turning the baton over to Sarah's son John played by Eddie Furlong. It's Eddie's movie - and Arnold's. It was like a no-win situation for me."
---
TERMINATOR 3: Rise of the Machines
HOME PAGE - SCHWARZENEGGER.IT